(image via modcloth)
Ok guys, it's that time again. Time for swimsuits. The photo above is my absolute favorite thing right now! How beautiful do those ladies look? Fan-freaking-tastic! Summertime is a time where body shaming comes out in full force and I am just over it. So, whatever your body- wear a swimsuit dang it! And news flash, everyone has fat and cellulite. So rock it ladies. Anyway, here are some swimsuits I am currently loving! AND they are totally flattering and gorgeous.
(albionfit.com)
This suit! All the heart eyes. This needs to be mine this summer. Floral? One shoulder? Flattering? It's a no brainier. I seriously go and look at it daily. AND I just purchased it... I cannot wait!
(albionfit.com)
Ok guys, I cannot get over these colors together. And THE RUFFLES! SO cute and perfect for small chested girls like me (haha) and the best part? The gathering detail! So flattering
(albionfit.com)
This suit is just classic. Those stripes? The solid black top? (It's a one piece). I wish I could fill my drawers with pretty swimsuits. Someone, let me move back to CA so I can justify spending all my money on swimwear!
(kingdomandstate.com)
This is one of my absolute favorite brands. MODEST! Trendy! And super cute. I have this swimsuit already in chevron BUT I just ordered this one as well. Because it's just that good. I cannot wait to get my hands on this swimsuit! Except to see a lot of instagram photos with this little beauty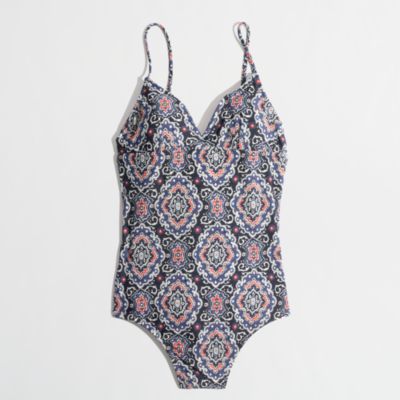 (jcrew.com)
What would a lust list be like without something from jcrew? I have this suit in navy with anchors and I wear it at least once a week to the pool with Charlotte. It's one of those suits where you just don't have to worry (if you know what I mean...)
What swimsuits are you loving? Any brands I don't know about yet that are fantastic?