Hello little corner of the internet. My, how I have missed you! Seriously! My life has just been plain nuts. I have barely had time to sleep, let alone blog this quarter. I have shed countless tears the past 9 weeks but I am almost through the quarter from you-know-where. Anyhow, I digress. Let's talk about what this post is really about. Makeup. Sephora sent out a 20% off coupon about a month ago and I went a bit crazy there (and picked up a few things at the MAC counter as well). Fall (and into winter) seem to be my favorite time to pick up makeup. Maybe it's the change in the weather but I always feel like I need to plump up my stash. Anyway-enjoy my friends! Let me know you are still here! I MISS YOU! XO
#1. YSL Ink Foundation
You guys... I can't even begin to tell you about my love affair with this foundation. I tried it as a sample on a whim when I went into Sephora for something and I. Was. Hooked. Yes, it's pricey at $60 but IT'S WORTH every penny. A little goes a loooooong way and it smells divine. It is a 24 hour wear (HELLO!) and it honestly feels like I have nothing on my face. We went to my friend's wedding in Aspen a few months back and I wore this foundation (sample) all.day.long. We even went to the pool and I didn't need a touch up (I did set my makeup with powder and finishing spray...) I cannot put this stuff down. I'm obsessed!
#2. Becca mineral blush in flowerchild
I bought this online after lusting over it for weeks. I had never tried a beck product before but all the reviews pointed to "you need me!" Sephora has an amazing return policy so if I didn't like it I wasn't going to hesitate in taking it back. I tried it and I AM IN LOVE. A little goes SUCH a long way and it's highly pigmented so you don't need much. It's the most gorgeous peachy/pink sheen (not shimmer). It's my new go-to!
#3. Becca shimmering skin perfecter pressed in rose gold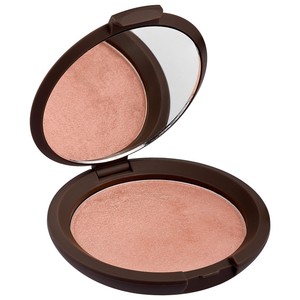 Anything rose gold has become my love language. I did sample this in stores before purchasing it (our Sephora doesn't sell the blushes for some reason... boo!) and I remember calling my mom and telling her "MOM! My cheeks look amazing!" So, of course I purchased it! Sadly, it is FAR too similar to my Josie Maran color wise so I am swapping it out for Opal. But if you are in need of ANYTHING rose gold (um... eyeshadow bonus anyone?) I would choose this in rose gold... but ANY color is fabulous.
#4. Origins GinZing
I have the absolute worst dark circles known to man. Made all the worse by these hellish last weeks. This is a life saver! I put it on right after I get out of the shower and I can tell a difference almost right away. Most other eye creams I have tried only help moisturize but this one definitely helps brighten my deep dark under eyes.
I also purchased some tried and true favorites of mine- urban decay's eyeshadow primer and their all nighter makeup setting spray! AND a few gifts for my husband (which I am sure I will get to use as well... WIN-WIN!) Now, onto my MAC picks.
#1. MAC blush in Melba
I usually lean towards more peach tones when it comes to blush- don't ask why, I just do! MAC describes the color as "peach with gold" but it is definitely more mauve than anything else I use. While I love the brightness of my coral colors I wanted something a bit more muted. I'm still getting used to this one but each time I use it I LOVE IT! It's ridiculously pretty on the skin and perfect for almost all skin tones.
#2. MAC eyeshadow in woodwinked
I honestly don't know how I missed having this in my eyeshadow collection (MAC, you are my eyeshadow soulmate... although I DO hear that Makeup geek and Morphe should be on my list...) but it's gorgeous. I mean, that's pretty much all I can say. It's a warm antique gold and goes on beautifully.
#3. MAC eyeshadow in expensive pink
I'm almost positive I purchased this shadow purely on it's name. I mean... it's called EXPENSIVE PINK! And that's exactly what it looks like. I think I would have named it "pink champagne" because it just looks like pink sparkly, bubbly gold.
Alright friends, that concludes my makeup haul (I think...) has anyone tried makeup geek or morphe products and loved them? I have such a hard time stepping away from MAC and Sephora! Help!