Today is officially my birthday! Woohoo! While I am sad that I will not be spending my day at Disneyland (again) this month has been the best! I have been so spoiled by my mom and Devin- I guess they both feel I deserved it because I had a baby? I don't know but I will take it! I do have to go to school today (boo) but I will be celebrating with pizza and ice cream cake and a DATE Saturday night with my handsome man.
I have already opened (and used) all of my birthday presents but just thought I would share them with you anyway ;-)
#1. A new iPad with a pink coach case
Everyone was telling Devin that I NEEDED to have this for nursing school. He could not WAIT until my birthday to give it to me. As soon as he got home he handed it to me and I yelled "IS IT AN IPAD IS IT AN IPAD!?" and Yes it was!
#2. Clarisonic Plus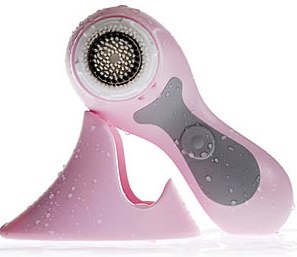 This photo is of the Mia but I have the plus and its so awesome! Devin and I have been wanting one of these for awhile and now we have it and we love it. I sort of wonder if Devin got it more for himself than for me... but it is pink so it's "mine". But honestly- if you have ever thought about buying one DO IT! You won't be sorry
#3. MAC lipstick in Lady Danger
Mad props to the hubs on this one. I had posted something on Facebook about wanting this lipstick... and he showed up with it for me. Um... who picked the best husband? I sure did. (P.S. THIS COLOR IS SO IN FOR SPRING!)
#4. Littmann Classic II S.E. stethoscope
I have been eyeing this baby ever since I decided to go to nursing school. They give you one as part of your "kit" but it's just a plain ol' black one. And if anyone knows me they know I have to have something flashy. My mom got this for me and had my name put on it because "That way no one will steal it! It's so cute!" And it's probably the cutest stethoscope I have ever seen. Way to go littmann.
#5. Piano
I have been wanting a piano ever since we moved from California and left our old one with our renters. When Devin asked what I wanted for my birthday I told him that I wanted a piano. Up until Sunday he told me that he wasn't having any luck. Well, Monday here comes this big honking thing. I wanted to cry. There is something about having a "talent" and not being able to use it. A lot of my fondest memories are listening to my mom play the piano. I think this piano needs a name but I haven't come up with a good one yet. But I'm so glad to have it in my home! (P.S. Thanks guys that helped move this beast. It really is a beast. I appreciate it more than I can say really.)
My grandmother used to tell my mom that she was going to spoil me rotten and that no man was ever going to spoil me as much. Grandma- I'm so sorry but you were wrong. I am spoiled beyond belief!... I came home the other day to (surprise!) Cirque Du Soleil tickets.
And because it's my birthday and this is my blog- I am now going to share with you the music video my friend Jay made for me on my 21st birthday. I listen to it every year and it's a crack up.