My parents are currently in Hawaii
YES... Hawaii... without me
My mom's nightly text last night said, "Aloha! We just walked on the beach! Nite nite!"
Bragger. But they deserve it... I'm just jealous we didn't get to go this year
As such I have complied a list of things I would need if I was going to go to Hawaii this year
#1. An Awesome Bathing Suit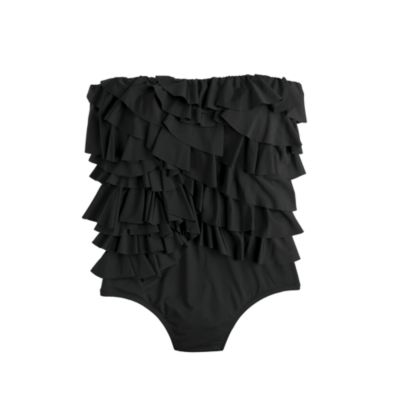 Everyone needs a classic black bathing suit (I'm not the only one who thinks this right?) for those days when you are feeling not-so-skinny. I love the ruffled details on this one!
J Crew
#2. A beach bag that doesn't scream "I'm a tourist!"
You know the bags I mean right? This one is summery without being overly loud. Plus who doesn't love a Marc Jacobs bag? I know I do.
Marc Jacobs
#3. A coverup that actually covers you up
My obsession with chevron extends farther than fabric. I love that this can cover up some wobbly bits(tummy... most of the thigh...) but still allow you to get some sun and enjoy that nice summer heat!
Genealogy
#4. A sandal that isn't a flip flop
I have my fair share of flip flops... sometimes you just have to wear them! BUT it is nice to have a "dressier" sandal and these ones are screaming my name!
Madewell
#5. A light flowy skirt
I know maxi skirts/dresses are super in but I am ridiculously short so this knee length one is perfect for me. I love the stripes and the color. Love love love.
Shabby Apple
#6. A wide brimmed hat
Keep that sun off of your cute face! This hat is way more cute than wrinkles.
Nordstrom
#7. An awesome sunscreen
This is my most favorite sunscreen in the entire world. No joke. It doesn't have that "I'm wearing sunscreen" smell and it works wonders! I ran out so yes I am lusting after some more of it... No one sells it here!
Amazon
All of this talk of summertime has made me want to go hit up the pool and pretend I am somewhere tropical... and since it's Friday the 13th I really hope they play the Linsanity (aka Lindsay Lohan) version of Freaky Friday on TV today... Happy Freaky Friday friends! Have a fabulous weekend!