So remember how I told you I bought that chevron top??? Well as you can see it came. And I love it. I kind of want to wear it everyday. Outfit repeating is OK by me.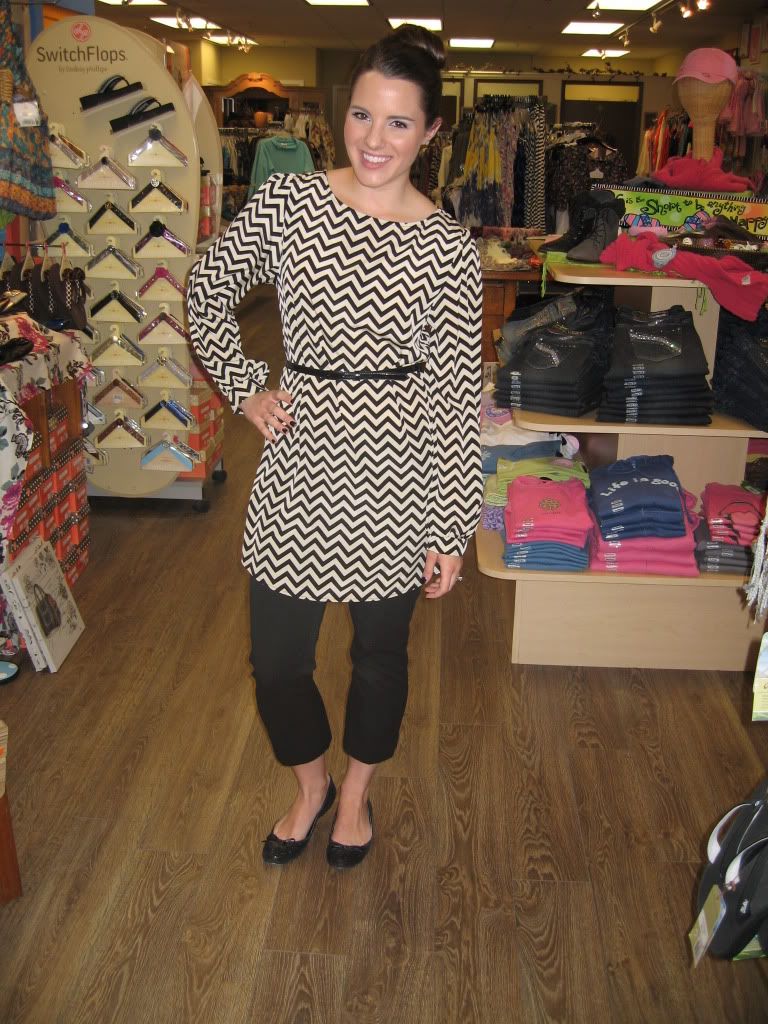 (Shoes: Enzo Angiolini. Pants and belt: Express. Top: Shopsosie.com)
Awkward:
-Having to buy new "lace up" shoes for indoor skydiving because I wore flats... and husband didn't tell me I needed to have lace up shoes and there was no way I was going to wear those rental ones they had there. This is one reason I have an aversion to bowling. There are a pair of gray converse that keep getting a sassy look from me in my closet. I did not want to spend money on those shoes.
-When guy in class in which we have now named "zig-zag" (because of his zig-zag patterned beard) told us that he knew the compound we were using from his bomb making days...
-The patient at job #1 who always tells me "I expect to see bright pink lips next time!" Sir... you will never see bright pink lips again.
-I completely burned the livin' day lights out of my thumb last night... no... it wasn't while I was cooking dinner... Nope... it was with the hot glue gun. Those things are dangerous for me.
-Realizing that there is nothing to make for dinner.... So honey...is breakfast for dinner ok again? Wife fail.
-On Sunday when we were at my parents celebrating my dad's birthday and Devin had a spider crawl down his shirt (CRINGE!) And I scream "Spider" and husband says WHERE? And I say "down your shirt!"I have never seen that man strip off his shirt faster. When he realized we were all looking at him he looked at my dad and exclaimed "Happy Birthday!" I guess we just need spiders to get a little strippin' action over here. We didn't find the spider FYI.
Awesome:
-Lifting up your feet on the Tower of Terror ride at Disneyland. Seriously it gives it a whole new level of intensity.
-Getting all of my homework done before the weekend. Boo-yah.
-Working right by the ocean. I got off work the other day just as the sun was going down. Gorgeous.
-When husband kisses me on the forehead. Seriously is there anything sweeter? I am thinking no.
-We finally have a date as to when we are moving! No more waiting! We know!
-Oh, and we are going beach camping tomorrow with our friends. I am just a teensy bit excited.
- It's starting to feel a bit like spring outside
-Kashi berry crunch cereal. I am a happy camper right now.
-Tomorrow is FRIDAY!!!!
Happy Thursday my friends! Be sure to check back tomorrow for some beauty products I am currently loving. Thanks for reading :-)